Introducing Acu Spec, Inc.
Hand Guard & Bar Mounts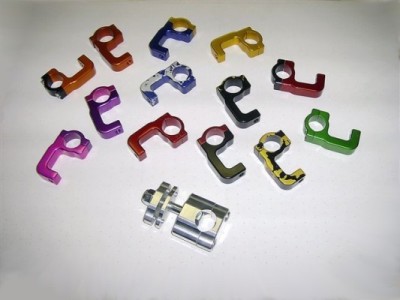 We have designed a new line of high quality Hand Guard & Bar Mounts for the Dual Sport Off-Road Motorcycle and ATV Industry. We offer a superior product with better fit and finish than the rest.
The Hand Guard Mounts are designed to allow the brake and clutch lines to flow smoothly with out any interference. The Hand Guard Mounts are machined at an angle to exactly match the size and taper of the bar whether it is a 1-1/8" Magura on a KTM, a Pro Taper on a HONDA, or a 7/8" Renthal on a Suzuki. By taking the time to "Do It Right" the result is a Hand Guard that can rest freely at the optimum angle. All the edges are smooth. There are no sharp corners. The anodized finish and stainless steel hardware will maintain a great look for years. The Mounts can be used with most of the popular Hand Guards on the market.
The Bar Mounts are made with the same attention to detail. They are designed to replace the stock 7/8" mounts for 1-1/8" bars, used to adjust the height of the bars or great for adding some "bling" to your ride. The Spacers have interlocking lugs so they fit together perfectly. You may add as many of the 5 or 10 MM Spacers you want, to get the bar height you desire. Both the Bar and Hand Guard Mounts are manufactured from 6061 aluminum on CNC machines to achieve the highest quality and surface finish. All our Mounts are available in a wide range of colors. If you don't see what you want…just ask us. Custom colors are available.
Acu Spec is always working on new designs to accommodate an ever-changing market:
"Because We Race The Parts We Make
They Are Crash Tested,
So We Know They're Tough!
"

MADE IN THE USA!
Front View
Rider View

Information Request